Virtual Convocation Website
Recognizing the Graduation of Online Students
San Jose State University's School of Information (iSchool) designed and developed a virtual convocation solution to recognize graduates for their achievements and support a fully online delivery model.
We created a public-facing website that allowed graduates to register, create profiles, and promote the convocation through social media outlets. Microsite visitors can view graduates' profiles, learn about their experiences at the iSchool, and read their plans for the future.
The virtual convocation showcases graduation speakers including videos from iSchool's leadership. While watching a virtual degree presentation, visitors can type in the chat, share the convocation on social media, send their congratulations to graduates, and join a third party virtual after party.
All data was managed from a secure administrative portal to allow SJSU administrators to create new convocations and manage the convocation experience.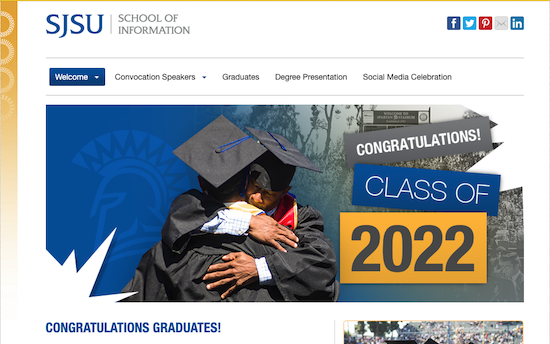 }