Wilson Center Digital Archive
Telling the Story of Cold War History
The Wilson Center Digital Archive is a resource where students, researchers, journalists, and others can access once-secret documents from governments and organizations all over the world, featuring a rich collection of once-secret documents from more than 143 different countries and 215 different institutions.
d'Vinci worked with the Wilson Center to re-design and develop a new version of this award-winning educational website. To ensure project success, d'Vinci implemented its UI/UX process for public-facing educational websites to research and define learner goals, ensure stakeholder feedback was captured, and guide the entire project team through a successful redesign. d'Vinci designed and built a new Data Visualization Discovery Tool interactive feature which allows learners to search and visually explore connections between historical events, figures, places, and topics.
d'Vinci built the new Digital Archive using Drupal 10 architecture, enabling Wilson Center staff to securely access content management features and add and edit resources to the site over time. d'Vinci's development methodology ensured that the final website was fully mobile responsive and Section 508 complaint.
Supported by the History and Public Policy Program, the newly launched Digital Archive website provides unique insights into global history, international relations, and diplomacy. Many of the documents in its collection are unavailable anywhere else, making the Digital Archive an invaluable tool for students, scholars, journalists, and policymakers.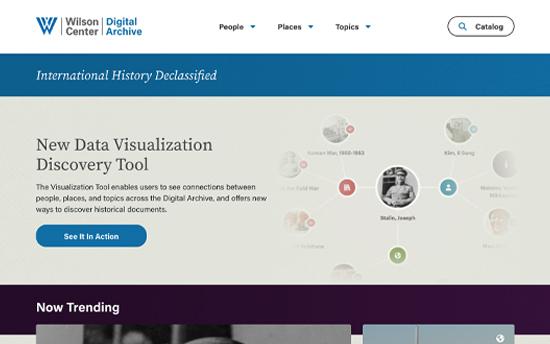 }